3 Highland Park Cross Country Alums Compete at Les Duke Invitational
Sunday, September 13 2009
(Below is article from Grinell College website)
Krauss, Montgomery send Pioneers to 2nd at Les Duke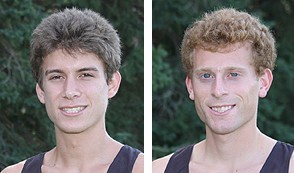 The Grinnell College men's cross country team had a stellar effort in its season opener Saturday, placing second in a 14-team field at its own Les Duke Invitational at Oakland Acres Golf Course.
The Pioneers were sparked by a pair of top 10 finishes, as Dan Krauss '12 (left) took third place and David Montgomery '10 (right) was seventh place. Krauss ran the 8 kilometer race in 26 minutes, 4 seconds and Montgomery finished in 26:17.
Rounding out the Pioneers' scorers were Noah DeLong '11, who was 20th in 27:07, Alex Reich '11, 24th place in 27:27, and Shyam Deshpande '11, 33rd in 27:38.
Grinnell tallied 87 points and was outdone only by Truman State, which scored 49. The individual champ Dan Greeno of Bethel, who ran 25:17.
On the women's side, Grinnell placed eighth with 209 points. The Pioneers were sparked by Hannah Colter '12, who placed 29th in the 6 kilometer race in 24:29. She was followed by Leah Russell '11, who was 34th in 24:51.
Other Pioneer scorers were Rachel Whitfield '10 (45th in 25:18), Maja Gamble '11 (48th in 25:19) and Annie Tempest '12 (53rd in 25:40).
Truman State won the team title with 44 points, 11 ahead of runner-up Bethel. Marie Borner of Bethel was the individual champ in 21:23.
Both Grinnell teams have next weekend off before competing in the Augustana Invitational on Sept. 25.